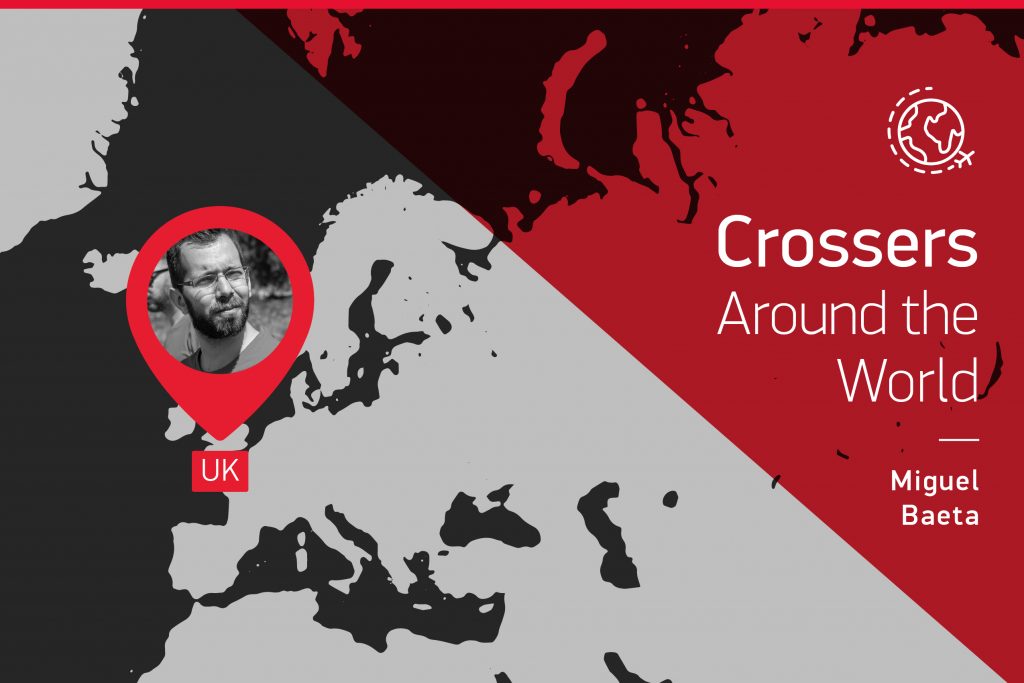 Miguel Baeta joined Crossjoin in 2017 as a consultant and with the will to embrace an international project.
The proposed destination when he arrived at Crossjoin, three years ago, was England, and the challenge was to integrate our team that works directly with our client – a telecommunication company.
"Working directly with the client is rewarding, due to the dynamic that exists, the personal development when dealing with new people and the pace with which new technologies appear."
Said Miguel.
It has been a long-term collaboration between Crossjoin and telecommunication companies. Crossjoin has an onsite team dedicated to the various areas, and has the excellent support of the competence center in Lisbon which is fundamental to overcome all the obstacles that arise. Crossjoin has proven its value, being an important asset to the customer's systems and also delivering tangible results.
Miguel mentions: " The support we have been providing to the client has proven and clear benefits in several areas – from CRM Systems, Billing, Integration where our work began, to the areas of Performance testing or even the Digital area and Cloud Infrastructure. That's why it's been a long-term collaboration."
He feels proud to participate in these challenges that have made him grow a lot.
This is not Miguel's first international professional challenge. The first time was 13 years ago in Luanda, Angola. At that time, he felt a big difference in terms of work and learning culture. It turned out to be a very valuable experience in his professional career. Since that experience, his passion for contact with other cultures has remained. Although in the UK there was not much culture shock, Miguel told us that he also had to adapt to certain situations.
What was most difficult in his adaptation to the country was the climate. He arrived in the UK, more precisely Newbury, at the end of January and although the houses and establishments are heated, in the street it is quite cold. In addition to the weather and traffic differences (being the other way around), there are some cultural aspects that made it a little confusing at first, such as the shops and cafes schedules. "We're used to a routine in Portugal of going for a coffee at the end of the day or after dinner either during the week or at the weekend and in England the establishments close very early. I remember thinking, "How are all the shops closed at 6pm? But in time I got used to it".
He also confesses to missing his family and friends in Portugal, but says that his Crossers colleagues help to "kill" these home sicknesses of Portugal, as they never stop speaking the Portuguese language and end up "finding a bit of home away from home".
On both a personal and professional level, the spirit of mutual help and support between the Crossers is always present and this is amazing, says Miguel.
"By the way, it's this team spirit and support that characterises Crossjoin so much that I value the most in our company. I know that if I run into any personal or professional obstacles, I will count on all the support of the team".
Thank's Miguel Baeta.